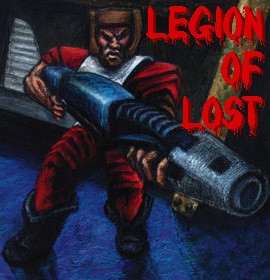 Clan LoL
About Clan LoL
Clan LoL (Legion of the Lost) is also known as LoL (Little Old Ladies) and a number of other epithets.
Our gaming clan dates back a lot farther than videogames. We began on board games back in 1971...
Then thanks to Gary Gygax and Dave Arneson, we were invited to play Dungeons & Dragons at several sci-fi conventions where we were pro guests, and we had great fun with that, between panels and appearances.
Pro Gaming Days
Then a few years later, we began by playing in LAN games on our own GODD(tm) Engine, which resembled what is now called the Half-Life engine...
We set up CTF games on the Godd Fogger Engine and built dozens of levels. At the same time, we started Gorebagg's Slayground servers in the original Quake TF format, writing dozens of gaming levels for TF which enjoyed thousands of downloads.
When TF changed, we went with it, but dropped our servers...then along came TF2, and now we're back in full force; we've heard from a lot of our old-timers dating back to 1994-97 when we were battling clan-to-clan.
How to Join Clan LoL
If you are a former Clan LoL member and want to rejoin, you won't need a combat check. Just let us know and we'll reinstate you. If you are a newcomer to Clan LoL, give us an email and we'll talk...if we've seen you play, we can give you an answer right away...if not, we'll do a combat check with you to check out your skills. If you're a noob player, you can attend our trainer combat course and we'll advance you as soon as you show some skills and team spirit.
Essentially, we are team players, with strategy foremost. We believe that the mind is the best weapon we've got, and strive to perfect that concept. We have revived Gorebagg's SlayGround as a full admin passworded server, open to clan members only.
In public games, you can find us just about anywhere playing just about any character class at just about any level, meaning that we assume whatever identity is most needed at the time.
If you'd like more information about our clan, click here.