Brane Powered Tri Drum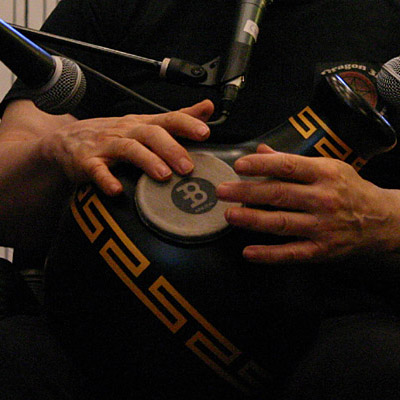 E.J. Gold discusses the advantages of the Tri Drum Udu. And, demonstrates a few of the many sounds possible from this amazing drum.
General Description
From the factory this unique drum (by Meinl) features a rawhide playing surface, a hole in the side, and an extra thin bottom that can be used as a third playing surface. The shell is constructed from shock resistent fiberglass.
The air chamber is very easy to control and has a very nice warm bottom end to it. With proper technique and practice any percussionist can and will open their ears to endless possibilites. And additionally this instrument is GREAT for polyrhythms.
There is a hole for a microphone in the side of the shell. This can be used for street performance and busking. For stage work you'll want to mic the Udu as demonstrated in the photos above.
Brane Powered
Each Udu we sell is outfitted with a full accompaniment of CQR Crystal Quantum Radio devices -- three in total. These help the drummer open the space creating a fully functional vortex -- perfect for invocational drumming.
One word of advice, don't let the name Tri Drum mislead you. As you experiment you will find dozens of completely different sounds in this instrument.
Accessories
The MEINL Bag fits this Tri-Drum perfectly. It is an excellent solution for storage or transporting these amazing instruments.
The MEINL Ibo Holder securely supports most common ibo drums in a comfortable position while enabling you to play the ibo with both hands.
Purchase Options



Tri Drum, Case &amp Stand
Price: $475
This option contains the fully outfitted Brane-Powered Tri Drum withcarrying case and stand -- the full package, the complete magilla.


Tri Drum &amp Case
Price: $410
This option contains the fully outfitted Brane-Powered Tri Drum along with carrying case -- no stand.
If you watch E.J. playing in concert you will rarely see him with the stand. This just might be the perfect combo -- drum and case, leave the stand for later if it turns out you need one.
Best Deal

Tri Drum only
Price: $350
This option contains the fully outfitted Brane-Powered Tri Drum -- without case, and without stand.

Case Only
Price: $60
You might discover more uses for this great cases and want a second, or perhaps you bought a Udu without case and now wish to transport your instrument in safety. Whichever, this is the case only purchase option.

Stand Only
Price: $65
If after playing a while you decide that you need the stand, then this one should work perfect for you.
Interested in Classes?
E.J. Gold offers drumming classes each week (Sunday morning) at 8:30am. These are streaming broadcast lessons -- meaning you can take lessons anywhere that you can get a connection.
Don't worry about previous experience. No experience is necessary. Drop in, get started, and you will find plenty to work with. Even though the classes build from week to week, E.J. is a consummate instructure able to give the new student plenty to get started while at the same time challenging returning students to dig ever deeper into the material.
Click here to sign up for drumming classes. By the way, these drumming classes are for all types of drums. So whether you have a djembe, conga, or a brand new Brane Powered Tri Drum, these classes will be perfect.