Drumming 101 #38
"The Magical Use of Drums"
Class July 10, 2011 with E.J. Gold
The magical use of drums and the use of drums to create vortices have to do primarily with the throb effect -- pulsation. Pulsing and throbbing are at the heart of mystical drumming -- sacred or spiritual drumming. Thrumming, throb, pulsation -- all these are used to technically describe what's happening to the gelatinous blob of the atmosphere as you're drumming.
E.J. answered yes to the question, can you use a different drum to do this? However, the "Tri" udu is easier to use -- it's a great drum for healing purposes. The "Tri" has some mysterious quality that creates a "dancish" kind of impulse. You're after that impulse because you're trying to get energy from a static state into a state of energetic movement. What you're trying to achieve is an undulation which means that it's grabbed from underneath, below, and it thrills itself through the pulsating mass -- pulsating mass in the sense that a mass is simply a gathering of something.
It's a gelatinous mass that you're trying to make dance to your music and trying to influence in certain areas, i.e., in the area of healing. For this, you want to create a healing dance that the gelatinous blob will respond to.
E.J. started drumming a basic beat on the "Tri". He changed the pattern slightly several times. At a certain point, he started to verbalize the pattern using a language heard in East Indian music. This 9-minute segment is the first of the loops available from class #38. He explained that you're trying to establish a pattern -- you're trying to stay on the pattern and stay on tempo. It's very important not to speed up. Fight the tendency to speed up. However, he doesn.t want students to work with a metronome. It's not a good practice because you could become dependent on it.
E.J. pointed out that when he plays the "Tri", you'll hear how he takes advantage of the P.A. system and the feedback from the speakers. He can modulate by frequency / pitch and by volume. He explained how to perform different modulations on the "Tri".
E.J. continued to drum, demonstrating several different drumming patterns. A total of 4 different drumming patterns, including one described as a learning beat, are available from this class.
When E.J. was asked the question, "How do you move your hands so fast?" His answer was, "It's commitment, that's how I move my hands so fast."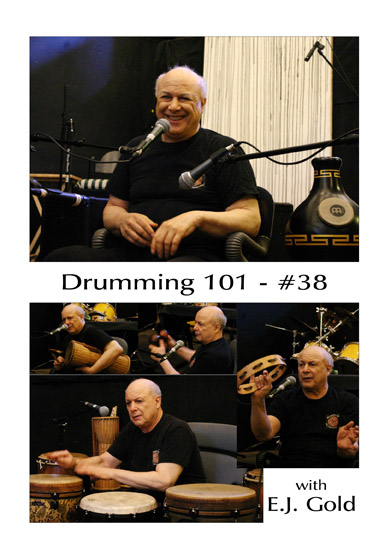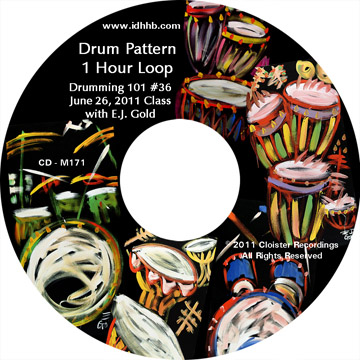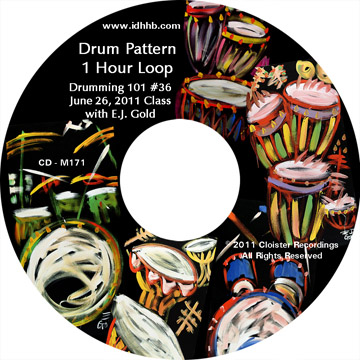 Drumming 101 #38
Instructional DVD with both Drumming Pattern Loop CD #1 and #2
Price: $34.95
1 DVD, 2 CD | Approx. 3 hours total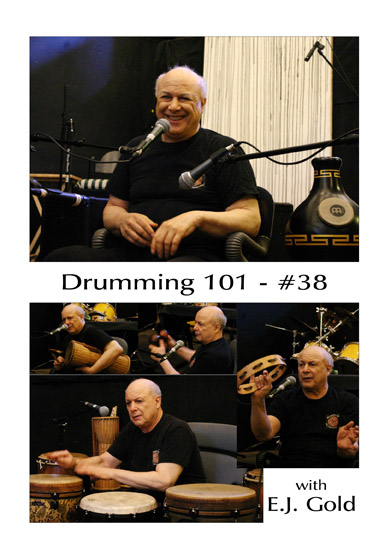 Drumming 101 #38
DVD without 1 hour basic Drumming Pattern Loop CD
Price: $24.95
1 DVD | Approx. 1 hour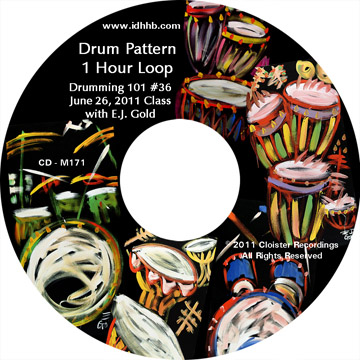 Drumming Pattern Loop CD #1 (cdm172)
Price: $9.95
1 CD | Approx. 1 hour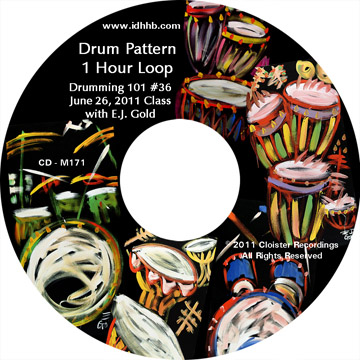 Drumming Pattern Loop CD #2 (cdm173)
Price: $9.95
1 CD | Approx. 1 hour