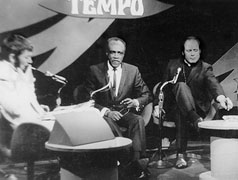 Richard Dawson, guest, E.J. Gold on Dawson's Tempo show, circa 1969. Courtesy Ken Paulson.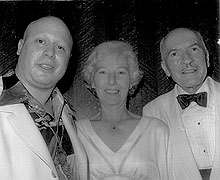 Longtime friends Virginia and Robert Heinlein were kind enough to stop for a photo op, and then to take E.J. Gold with them on a tour of MidAmeriCon, Radisson-Muehlebach hotel, Kansas City, MO, 1976, Kansas City, 1978, where fans were urged to donate blood.
Photo courtesy Morgan Fox Agency.
Early Days of Broadcasting
1979-1983
KPFK, WBAI, Mary Houston interview with E.J. Gold, Inner Awakening & Transformation, KPPC, KRLA, KRON, CBC Radio Television, KPFK (with Amanda Foulger).
1972-1977
Today's World , KPFK (with Amanda Foulger), KPPC (with Barbara BirdFeather)
1967-1969
KHJ-TV (Tempo, with Richard Dawson), Huntley/Brinkley, Walter Cronkite, Joe Pyne (several inteviews).